URBAN PERFORMANCES – Entdecken Sie den Stadtraum wahrnehmungsorientiert und performativ

Workshop im Rahmen der BAUHAUS SUMMER SCHOOL 2017 mit der Choreographin und Tänzerin Tanja Matjas und internationalen Studierenden der Architektur, Stadtplanung und Bildenden Kunst, Bauhaus-Universität Weimar, 07. bis 18. August 2017

Im Laufe des Kurses erforschten die Teilnehmenden aktuelle Aspekte des urbanen, gemeinschaftlichen Lebens mittels künstlerischer Interventionen und Performances im Stadtraum von Weimar. Dabei setzten sie sich auf performative Weise mit den Entscheidungen von Raum- und Stadtplanung direkt vor Ort, auf der Basis der eigenen körperlichen Wahrnehmung, auseinander. Ausgangspunkt der Arbeit waren städtische Alltagshandlungen wie Gehen, Stehen und Sitzen, die den städtischen Raum prägen und als gelebten Raum erst konstituieren. Mit Mitteln der künstlerischen Feldforschung (Gedächtnisprotokolle, Zeichnungen, Audio-Aufzeichnungen, Interviews usw.) und der eigenen Körperwahrnehmung untersuchten die Studierenden den Stadtraum von Weimar, um die Ergebnisse später für künstlerische Aktionen und Eingriffe zu nutzen.
Neben der praktischen Annäherung in Form verschiedener Aufgaben setzten sie sich außerdem mit wichtigen Künstlerpersönlichkeiten auf diesem Gebiet sowie soziologischen Aspekten des Themas auseinander.
Im Bereich der Performance-Kunst sowie für die wahrnehmungsbasierte, künstlerische Form der Feldforschung ist der eigene Körper ein wesentliches Element der Arbeit. Aus diesem Grunde wurde die thematische Arbeit durch spezielle Übungen zur Körperwahrnehmung und Präsenz unterstützt.
Im Laufe der zwei Wochen entstanden mehrere Gruppenperformances im Stadtraum von Weimar. Der Workshop wurde durch eine wissenschaftlich-praktische Einführung des Kulturanthropologen Dr. Alexander Schwinghammer in die Feldforschung und die Arbeit der Tutorinnen Katharina Elert, Julia Heiser und Johanna Reckewerth unterstützt.

LUNCHEON ON THE GRASS
Stephanie Amoros Morote, Youssef Serageldin, Fatimah al Zahra

BASKETS AND TROLLEYS – What happens when the habbits are switched
Jekaterina Ancane, Katharina Elert, Omar Amr Ahmed Saleh, Mahlegha Asayesh Banadaki, Abdel Rahman Ragheb
Interesting hustle used to happen at traditional markets years ago, but since introducing modern consumerism some of that charme might have been swiped away. Weimar, an eastern German city, happens to have accumulated enough reputation to solidify its traditional status and character. Some years ago the Atrium, a shopping mall, was erected attracting large masses of people in supposedly strongly rooted traditional built environment, so we loved to interfere with such a tricky situation.
TROLLEYS ON THE MARKET
As a lucid but nonetheless renowned icon the shopping cart stands as a symbol for modern mall shopping. People actually got used to this 'alien' item in what is now its natural environment. So how would they react if it suddenly pops in what it is supposed to be its antagonistic context, when it is most crowded, at 11am?
BASKETS IN THE SHOPPING MALL
The other way round as weird as it is would now seam the most logical act. On 1pm 10 of us entered the Atrium mall shopping in traditional baskets for modern clothing, beauty stuff and electronics.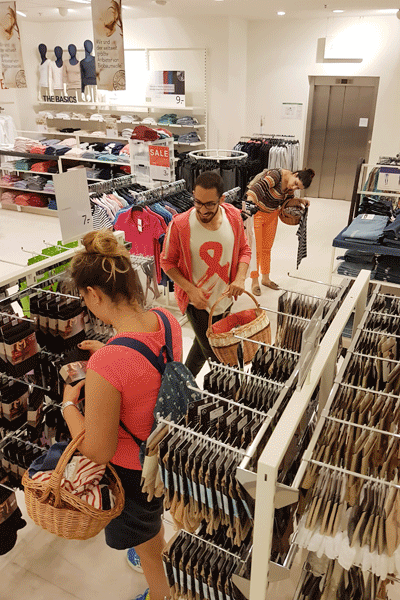 THE SILENT PICNIC

Oksana Chyslovska, Alexandra Popova, May Newisar, Abdulrahman Bassiony, Haenam Shin
Picture yourself on the square where nothing is happening. An old man slowly crosses the street. SILENCE. NO people. NO Children. NO Music. NO Talks.
This is WEIMARANERPLATZ in Schöndorf near Weimar. On the side of the square there is a 5 storey building. Designed as a hotel with a huge number of rooms to stay, this building was however never used as a hotel. Nowadays it is a house for elderly people with a specific atmosphere.
The SILENT PICNIC Performance was invented to emphasize the atmosphere of this place. The place, where a lot of actions could have been done, but actually nothing is happening. Playing the games, reading or drawing, having picnics or just relaxing in the shadow of the trees – these are just some of the possible ways to use this place.
The average age of the users there was between 60 to 80. The main aim is to let the users interact with the place by watching the daily routine activities without annoying or disturbing their lifestyle at this area. We wanted to reflect the atmosphere there by silent activities without talking. People were enjoying what we were doing and they were smiling. It increased their time spent there. We succeeded to change the mood of the area for a little while.